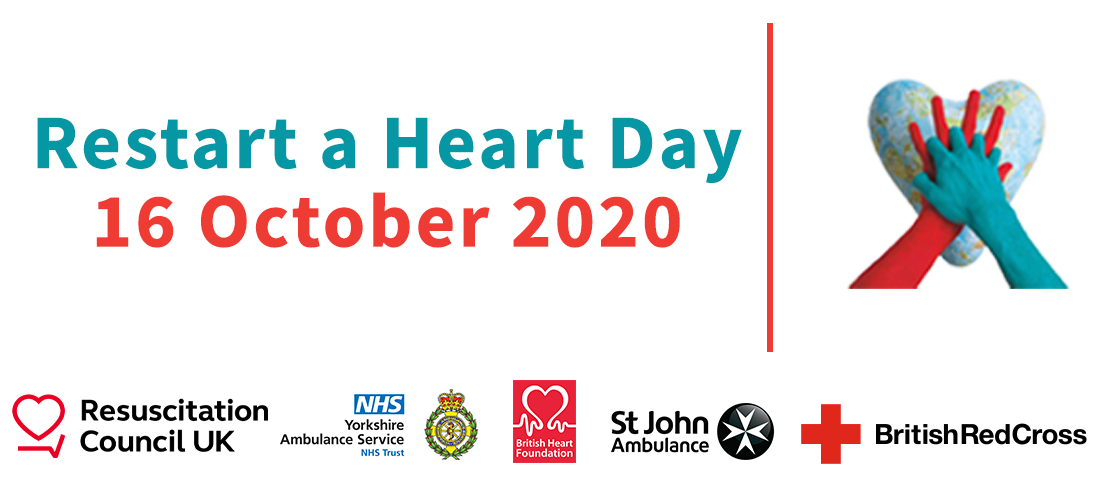 Every October, hundreds of thousands of people across the UK – and many more worldwide – learn CPR as part of the Restart a Heart campaign.
The campaign is led in the UK by Resuscitation Council UK alongside our partners - the British Heart Foundation, British Red Cross, St John Ambulance and Yorkshire Ambulance Service. Every UK Ambulance service joins in to ensure as many people as possible are trained in life-saving skills.
We lead this national training event because we know that if more people learn CPR, more lives could be saved. The campaign brings communities together, raising awareness of cardiac arrest and increasing the number of people trained in the UK.
In 2019, over 291,000 people learnt CPR as part of Restart a Heart. 
Anyone can be affected by cardiac arrest at any time - and cardiac arrests haven't stopped during COVID-19. In fact, early data shows they have increased - making learning CPR more important than ever. 
When someone collapses and stops breathing normally, it is important to quickly call 999, perform hands-only CPR and use a defibrillator. This gives that person their best chance of life - and don't be afraid to get hands on! Hands-only CPR reduces your risk of catching an infection, and without intervention the person will quickly die.
Help us change lives in the UK by participating in Restart a Heart 2020. This year, we're going digital to teach safe, effective CPR to give people the confidence and skills to save lives from sudden cardiac arrest - done safely in reduced numbers or digitally from the comfort of your own home. 
Here's how you can get involved.
How to teach CPR
Resuscitation Council UK's 'Teaching your ​secondary​ school pupils ​CPR,' a lesson plan created to help you ensure your students know how to identify if someone's heart is not beating normally or has stopped (the person is in cardiac arrest), to know what to do, and to have the confidence to act to try to save someone's life.
First aid champions, from British Red Cross, is a new first aid teaching site for learners aged 5-18. First aid education is now on the RSE and health curriculum in England, and First aid champions can be used by all schools in the UK to teach the skills children and young people need to save a life.
How to learn CPR
Resuscitation Council UK's Lifesaver game-in-a-film puts users in the heart of the action as they make the decisions to save a life while learning CPR skills and how to use a defibrillator. 
A Sudden Cardiac Arrest Animation from Resuscitation Council UK demonstrates what to do when someone collapses and stops breathing normally at a time of increased risk of infection. 
Events
Small, independent events can be registered by filling in our short survey. Please note that any face to face training events must adhere to local and national guidance on social distancing and must be in a covid-secure environment. Any events that do not adhere to government guidance cannot operate under the Restart a Heart banner. 
You can contact your local ambulance service below to find out more about how they will take part in this year's Restart A Heart day.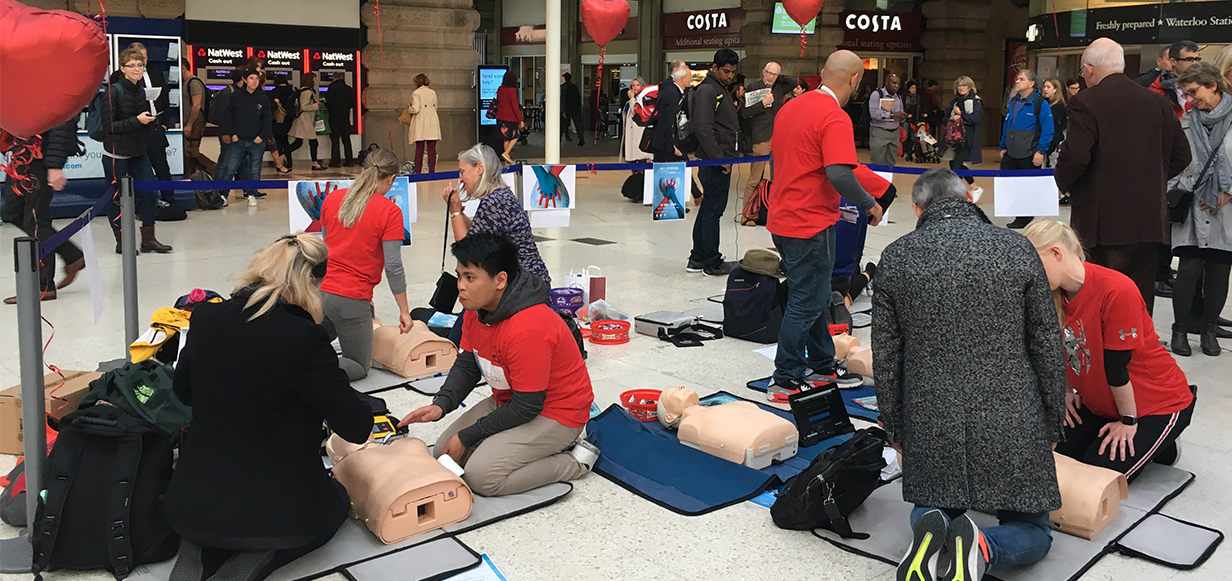 Find your nearest Ambulance Service
Regional contacts
East Midlands Ambulance Service
James Hornby, james.hornby@emas.nhs.uk
East of England Ambulance Service
Andrew Barlow, andrew.barlow@eastamb.nhs.uk | Website
Guernsey - St John Ambulance Service
Jim Cathcart, jim.cathcart@stjohn.gg
Isle of Wight Ambulance Service
Louise Walker, ambulancetraining@iow.nhs.uk
London Ambulance Service
Chris Hartley-Sharpe, restartaheart@londonambulance.nhs.uk
Tracy Castle, tracy.castle@lond-amb.nhs.uk
Jersey Ambulance Service
Janet Davison, ja.davison@health.gov.je
Northern Ireland Ambulance Service
Stephanie Leckey, stephanie.leckey@nias.hscni.net
Jacqueline O'Neill, jaqueline.o'neill@nias.hscni.net
North East Ambulance Service
Alex Mason, alexandra.mason@neas.nhs.uk
North West Ambulance Service
Mark Evans, mark.evans@nwas.nhs.uk
David McNally, david.mcnally@nwas.nhs.uk
Save a Life for Scotland
Lisa MacInnes, hello@savealife.scot | Website
South Central Ambulance Service
Nic Dunbar, nicola.dunbar@scas.nhs.uk, rah@scas.nhs.net
South East Coast Ambulance Service
Greg Smith, greg.smith@secamb.nhs.uk
South West Ambulance Service
Sharifa Hashem, sharifa.hashem@swast.nhs.uk
Welsh Ambulance Service
Fiona Maclean, fiona.maclean@wales.nhs.uk | Website
West Midlands Ambulance Service
Cliff Medlicott, cliff.medlicott@wmas.nhs.uk
Yorkshire Ambulance Service
Louise Boyes, yas.restartaheart@nhs.net | Website