Every day, lives in the UK and worldwide are impacted by sudden cardiac arrest. That's why Resuscitation Council UK is leading on Restart a Heart day for the tenth year: because if we want more people to survive, more people must learn life-saving CPR skills.
These six stories show the importance of CPR. Whether it was through receiving CPR during a cardiac arrest, performing CPR on someone in need, or witnessing a loved one receive life-saving CPR, they all have one message: learning CPR today might help you save a life tomorrow.
Charlotte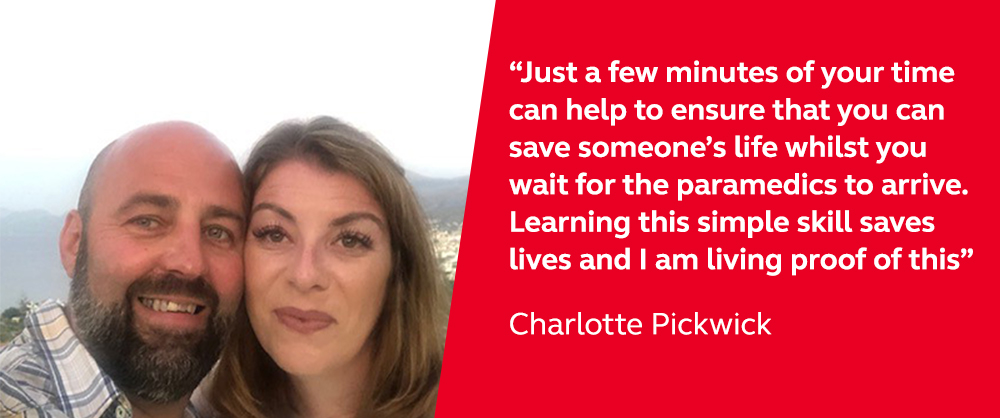 Full-time nurse and mum Charlotte suffered a cardiac arrest in the early hours of the morning. It was the week of her 41st birthday.
Her engineer husband Stuart was awoken by Charlotte's agonal breathing and realised what was wrong. He called 999 and performed CPR for 7 minutes, until paramedics arrived. Charlotte made a full recovery because her husband knew what to do in an emergency.
Now, the couple have set up a charity, 'Do It For Defib'. They've taught CPR to the public, and placed defibrillators all across their town. Some of those that they've trained have already had to perform CPR on loved ones. They want more people to learn lifesaving skills in CPR.
Chris
Chris was prepared for an emergency. The wind turbine technician volunteers for lifeboat provider Humber Rescue in his spare time. He's also been CPR trained as part of his job and carries a defibrillator in his company vehicle.
Driving to work, he saw a car stopped on a remote carriageway. Realising the driver was in cardiac arrest, CPR was started and he rushed to grab his defib.
One shock restored the driver's breathing and pulse. It was Chris' first time using a defibrillator, but his confidence and quick-thinking saved the driver's life. The driver is now recovering, and the pair hope to meet once he feels better.
Sam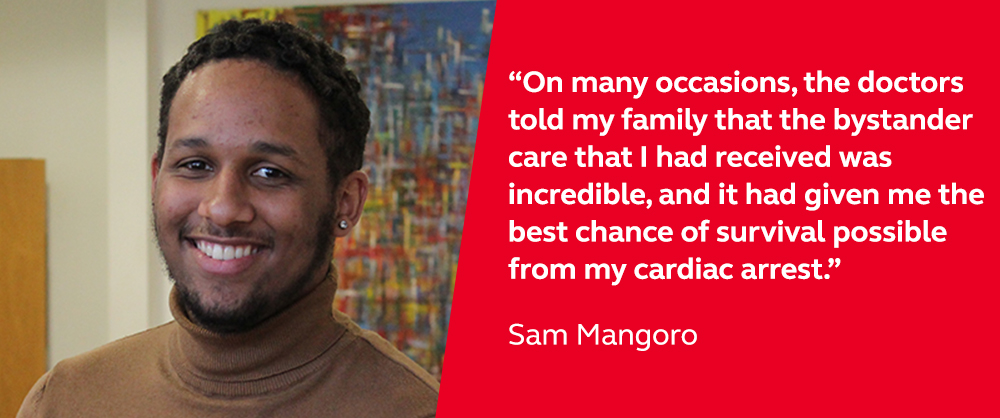 Sam Mangoro was 16 when he collapsed in the middle of a PE lesson. A teacher attending a job interview saw what was happening and rushed to help, beginning CPR and asking for a defibrillator.
Thankfully, the school had installed a defibrillator just weeks before, and it was used to shock Sam four times. They gave him the best chance of survival possible in advance of an ambulance arriving.
Sam's life was saved because the people around him acted quickly. Without their team effort, Sam wouldn't be with us today. Now, Sam is raising ICD, defib and CPR awareness with his All Heart Campaign.
Aileen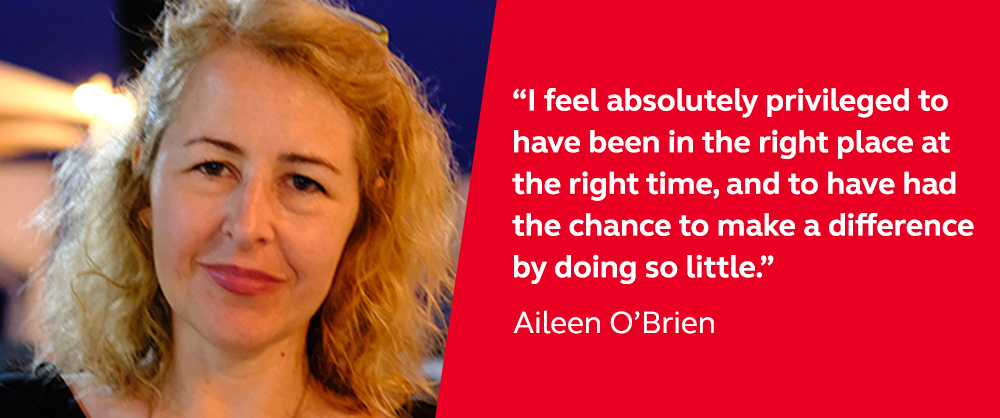 Every year, psychiatrist Aileen did CPR training as part of her job, but didn't see the immediate value of it - until she found herself in the middle of an emergency.
She was on her way home from shopping when she saw a jogger collapsed on the road. She couldn't find a pulse, so she started CPR while another bystander called 999. First responders quickly arrived, and he made a full recovery.
She has since met with the jogger and his wife, and is proud to have had the skills and confidence to become a lifesaver.
Mel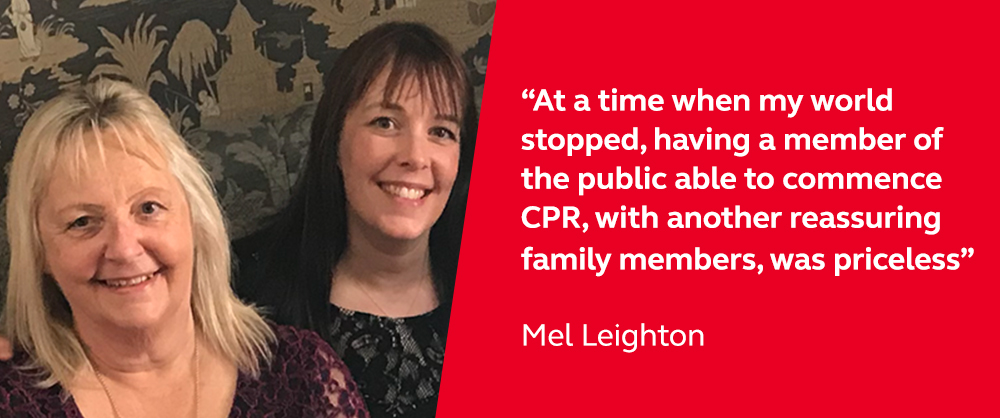 Earlier this year, Mel and her loved ones were celebrating Mel's mum Edna's 60th birthday in Covent Garden when Edna collapsed suddenly.
Two off-duty nurses spotted her and immediately sprung into action. They began CPR, shouted for a defibrillator and made sure help was on its way. Paramedics then joined the scene, and she recovered in hospital.
Mel is thankful not only for the efforts of these two bystanders in helping to save her mum's life, but also because they provided reassurance to the family. Thanks to their kindness, Mel and her mum will be able to continue spending quality time together.
Malcolm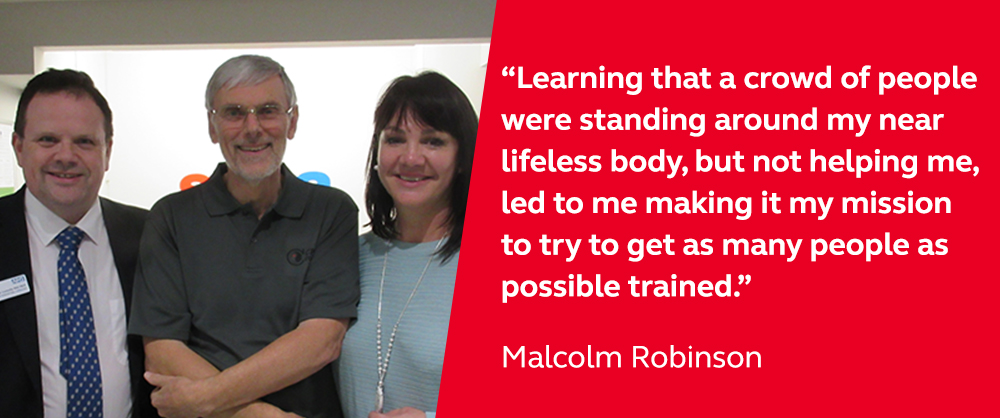 When Malcolm Robinson collapsed and stopped responding in a busy city centre, a crowd quickly formed, and someone called an ambulance- but nobody knew what to do next.
Judy Lewis was driving when she saw the crowd gathered on the street corner, so she rushed to the scene. Recognising his symptoms as cardiac arrest, she started CPR and encouraged others to help. An ambulance arrived shortly after, and he was treated in hospital, making a good recovery.
Judy's confidence to help when others were afraid saved Malcolm's life, and has inspired Malcolm to create a volunteer CPR training group, CPR Counts, to ensure others have the skills to help.