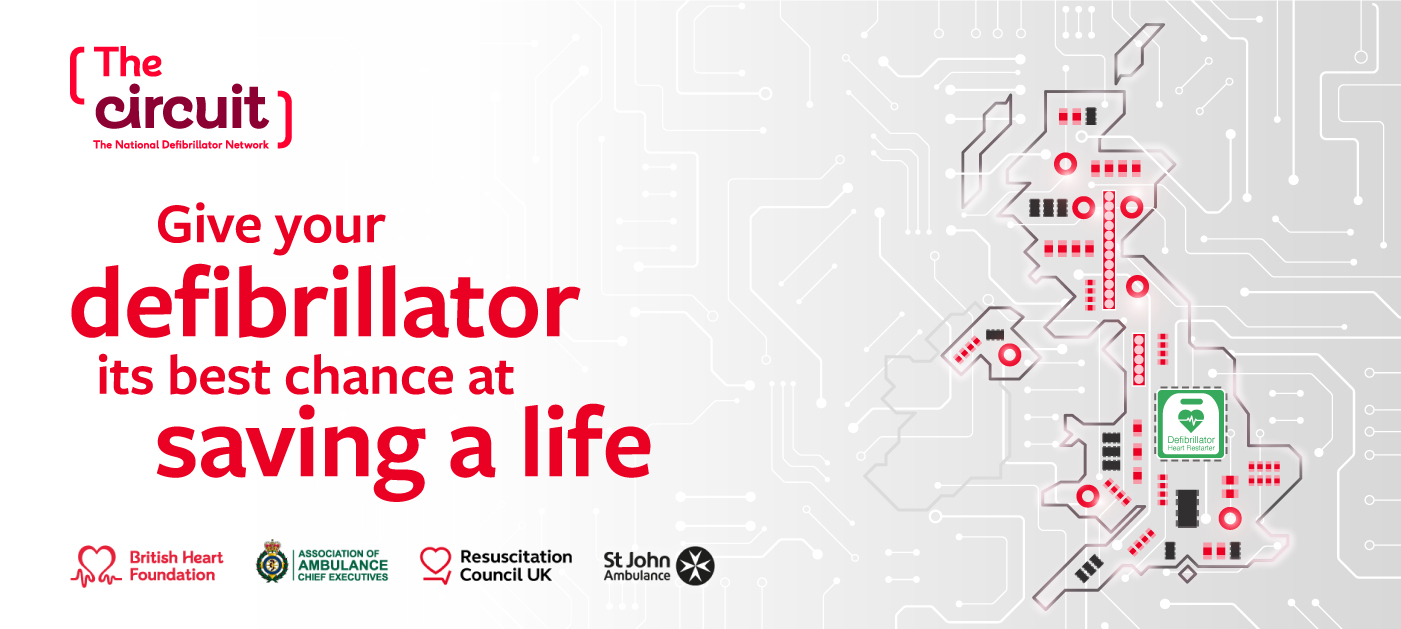 There are over 30,000 out of hospital cardiac arrests (OHCA) every year in the UK and the survival rate from these cardiac arrests is less than one in ten people.  
When someone collapses and stops breathing normally, early CPR and defibrillation can double their chances of survival. Knowing where the nearest defibrillator is can make all the difference when every second counts – but not all defibrillators are known to the ambulance services, putting lives at risk across the UK. 
It is estimated that public access defibrillators are used in only 5% of OHCAs and there are tens of thousands of defibrillators in the UK whose location is not known to ambulance services.  
We need the help of those looking after defibrillators (the defibrillator guardians) to make sure their defibrillator is connected to The Circuit. 
The Circuit: 
is a first-of-its-kind programme to connect all defibrillators in the UK to a single network 
will ensure that all ambulance call handlers are able to quickly direct people to their nearest defibrillator in an emergency.  
We're proud to partner with the British Heart Foundation, who are leading on The Circuit along with fellow partners St John Ambulance and the Association of Ambulance Chief Executives. These organisations are calling on people who currently look after a defibrillator - and those who purchase one in the future - to make sure they connect it to The Circuit by registering it online.  
Currently, 13 of the UK's 14 Ambulance Services are connected to The Circuit – and we're aiming for all UK ambulance services to be connected by spring 2022. If your area isn't live yet, you can register your defibrillator in advance – but please make sure your defibrillator is also known to your local ambulance service. 
Connecting to The Circuit will also help you look after and maintain your defibrillator. You'll receive regular reminders to check your defibrillator is ready to use and the pads are in date, be able to connect with other guardians in your area should you wish and even organise someone to check it if you're likely to be away on holiday. 
Through this network of defibrillators, those having a cardiac arrest, the bystanders and the ambulance services will all be better connected. 
For any questions please email the British Heart Foundation at NDN@bhf.org.uk or submit a ticket with your query for Resuscitation Council UK.