More than 230,000 new UK lifesavers ready to save lives thanks to national training campaign
November 1 2018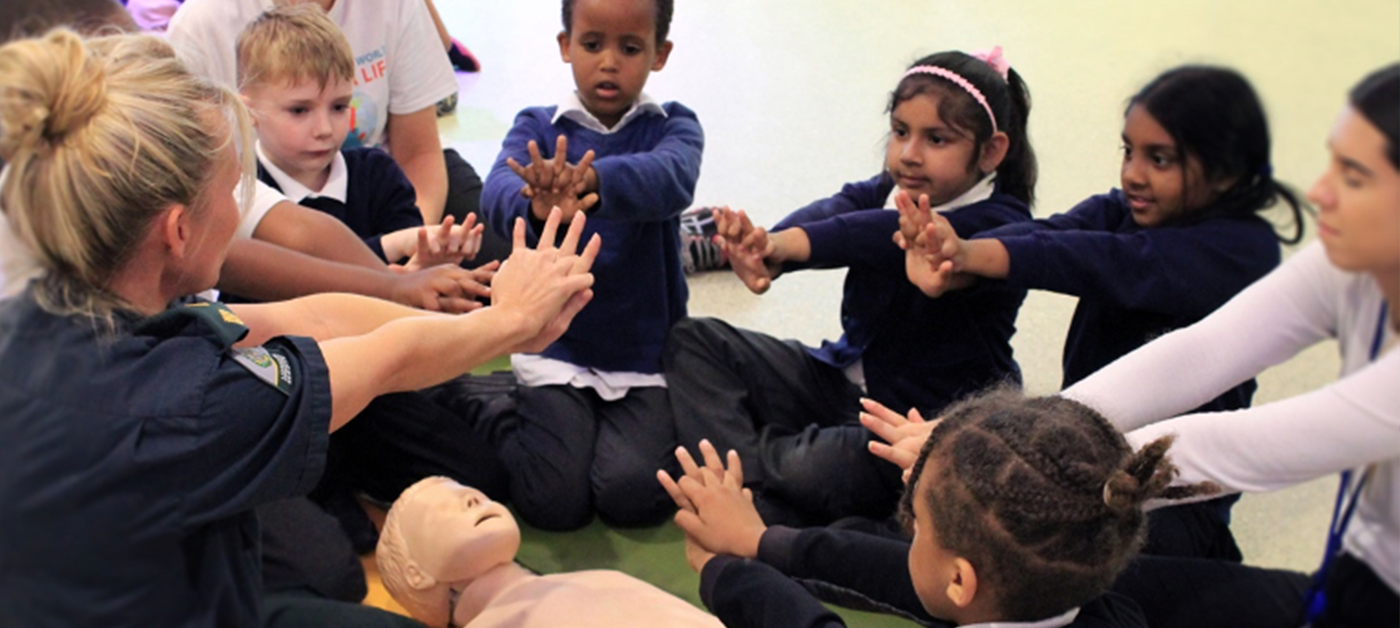 A record-breaking 238,793 people in the UK learned life-saving skills as part of Restart a Heart day [link to RSAH landing page] in a bid to improve survival rates from cardiac arrests that happen outside of the hospital setting.
Figures show that currently less than 1 in 10 people in the UK survive a cardiac arrest that occurs out of hospital [1]. Chances of survival can treble if someone having a cardiac arrest is given early CPR and defibrillation [2]. The value of these life-saving interventions has recently been in the spotlight with the experience of football pundit Glenn Hoddle, whose life was saved because of the bystander CPR and defibrillation he received after he collapsed from a cardiac arrest.
Restart a Heart is an annual event led by Resuscitation Council UK, with the British Heart Foundation, St John Ambulance, the British Red Cross, Greater Manchester Fire and Rescue and Yorkshire Ambulance Service. It brings together schools, charities, emergency services, volunteers and private trainers on and around 16 October to teach cardiopulmonary resuscitation (CPR) and defibrillation to children and adults.
World Restart a Heart day Co-Lead and Resuscitation Council UK Honorary Secretary Dr Andy Lockey said:
"Learning to save a life is an incredibly empowering skill and one that will make the difference between life and death. Campaigns like Restart a Heart day are crucial in improving survival rates both in the UK and across the world – and we couldn't do it without the thousands of volunteers who donate their time and efforts each year to train and educate others."
Simon Gillespie, Chief Executive at the British Heart Foundation, said:
"CPR is the difference between life and death for thousands of people every year in the UK who suffer a cardiac arrest. Campaigns like Restart a Heart Day, which aim to raise awareness of the importance of life saving CPR, are making a real difference. We have seen promising improvements in bystander CPR rates since the first Restart a Heart Day campaign four years ago. Since then, the BHF has trained over 4 million people in life saving CPR. But we're not stopping yet – we want to see everyone trained in CPR, to vastly improve cardiac arrest survival rates."
St John Ambulance CEO and volunteer first aider Martin Houghton-Brown said:
"Over 1,500 St John Ambulance volunteers supported Restart a Heart this year because, as a health charity that is active on the ground, we see first-hand the difference bystander CPR and early defibrillation can make in those first few minutes of a cardiac arrest. By giving up our time to teach CPR to members of the public, family and friends, we are making our communities more resilient so that people can step forward when it matters most and save more lives."
Joe Mulligan, Head of First Aid Education at the British Red Cross said:
"It's fantastic that so many people have learned this important life skill on Restart a Heart Day. When someone is unresponsive and not breathing it's a matter of life and death. Without immediate intervention with CPR and a defibrillator the chances are that person will not survive so absolutely it's vital we all know what to do.

"While it's normal to feel worried about performing CPR, it's important to remember that doing something to help is always better than doing nothing.

"First aid will soon be part of the National Curriculum in England, meaning all schoolchildren across the country will learn this important life lesson which could go a long way to improving public confidence. In the meantime we would urge everyone to use our free online resources to learn this lifesaving skill."
Jason Carlyon, Clinical Development Manager for Yorkshire Ambulance Service, said:
"It's been a phenomenal year for Restart a Heart Day; not only did we create thousands more potential life-savers than we anticipated in the UK, we also saw CPR training reach more international audiences than ever before. Initiatives like this are vital if we are going to improve survival rates from out-of-hospital cardiac arrests."
There are many ways to learn what to do in an emergency:
-Ends-
Notes to editor:
[1,2] Resuscitation to Recovery
About Resuscitation Council UK
Resuscitation Council UK is a UK-wide charity whose purpose is to save lives. We are the expert organisation that is dedicated to saving lives through effective, appropriate resuscitation. We are the experts in resuscitation. We enable people to save lives through resuscitation.
For more information about Resuscitation Council UK and what we do, please visit www.resus.org.uk.
About British Heart Foundation
For over 50 years we've pioneered research that's transformed the lives of people living with heart and circulatory conditions. Our work has been central to the discoveries of vital treatments that are changing the fight against cardiovascular disease. But so many people still need our help. From babies born with life-threatening heart problems to the many Mums, Dads and Grandparents who survive a heart attack and endure the daily battles of heart failure. Join our fight for every heartbeat in the UK. Every pound raised, minute of your time and donation to our shops will help make a difference to people's lives. For more information visit bhf.org.uk
About St John Ambulance
St John Ambulance is the nation's leading first aid charity.
Every year, 400,000 people learn how to save a life through our training programmes, including hundreds of thousands of young people. Our volunteers provide first aid in their communities, keeping people safe at events, and working alongside the NHS in response to 999 calls. We're also always campaigning to raise awareness of first aid and directly educate the public.
First aid is such a simple skill, but it has an incredible impact. We want everyone to learn it, so that they can be the difference between a life lost and a life saved.
About British Red Cross
The British Red Cross helps people in crisis, whoever and wherever they are. We are part of a global voluntary network, responding to conflicts, natural disasters and individual emergencies. We enable vulnerable people in the UK and abroad to prepare for and withstand emergencies in their own communities. And when the crisis is over, we help them to recover and move on with their lives. www.redcross.org.uk.
About Greater Manchester Fire and Rescue Service
Greater Manchester Fire and Rescue Service is one of the largest Fire and Rescue Services outside London with over 2,100 members of staff and 41 fire stations. We cover an area of approximately 500 square miles and a culturally diverse population of 2.5 million people.
Our vision is to make Greater Manchester a safer place by being a modern, community focused and influential Fire and Rescue Service. For more information about Greater Manchester Fire and Rescue service, please visit www.manchesterfire.gov.uk.
About Yorkshire Ambulance Service
Yorkshire Ambulance Service NHS Trust covers almost 6,000 square miles and provides 24-hour emergency and healthcare services to a population of more than five million people. The Trust started the mass CPR training to mark Restart a Heart Day in 2014 and since then has provided the life-saving lesson to more than 105,000 secondary school pupils in just five days. The organisation's award-winning concept was subsequently adopted by all ambulance services in the UK in 2016 before going global.