Healthcare organisations and ambulance services are urging the UK public to get hands on and learn CPR for Restart a Heart Day (16th October), in light of worrying research that shows that over a third (38%) of UK adults have never undertaken any form of training to learn essential CPR skills. These are the skills that saved footballer Christian Eriksen's life in June, and could save the life of anyone in cardiac arrest – which could happen anywhere, to anyone, at any time. 
The survey, carried out by YouGov, showed that 82% of UK adults were aware that Christian Eriksen experienced a cardiac arrest at the Euros this year. However, with CPR training rates remaining stubbornly low, the organisations behind Restart a Heart are asking everyone to feel inspired by the actions that saved Eriksen's life and learn how to perform cardiopulmonary resuscitation (CPR).  
The annual event, which is in its eighth year, aims to train people in how to perform CPR, so they feel confident to act in an emergency. The campaign is led by Resuscitation Council UK, in partnership with St John Ambulance, the British Heart Foundation, British Red Cross and all UK ambulance services. 
For every minute that a person in cardiac arrest doesn't receive CPR and defibrillation, their chance of survival drops by up to 10% - so acting in an emergency is crucial. With most cardiac arrests happening at home, knowing CPR and being confident to act could save a loved one's life. 
People can learn CPR by attending local training events and by using online resources, which they can find at resus.org.uk/rsah. There are resources available in a range of languages, including Punjabi, Hindi, Arabic, Gujarati, Welsh, Polish, Chinese and Kurdish as well as in Makaton. Resources are also available for teachers to use with their students in lessons. People can also support the campaign and learn more about it on social media using the hashtag #RestartAHeart. 
The organisations behind Restart a Heart are delighted that many sports clubs, associations, businesses, and community venues have acted following Eriksen's arrest to train people in CPR and to install defibrillators. On and around Restart a Heart Day a number of football clubs, including Leeds United, Brentford FC, Hull City, Sheffield United, and Huddersfield Town will be holding CPR demonstrations at their grounds on match day, promoting the importance of CPR in match day programmes and during half time. Yorkshire Ambulance Service has also worked with professional footballers in the region to produce a short video telling people the key steps to do CPR. Volunteers from St John Ambulance will also be running free CPR demonstrations in many locations across the UK, as will many other organisations who are supporting the campaign. 
Nobody understands the importance of knowing CPR skills more than 13-year-old Henry Collett.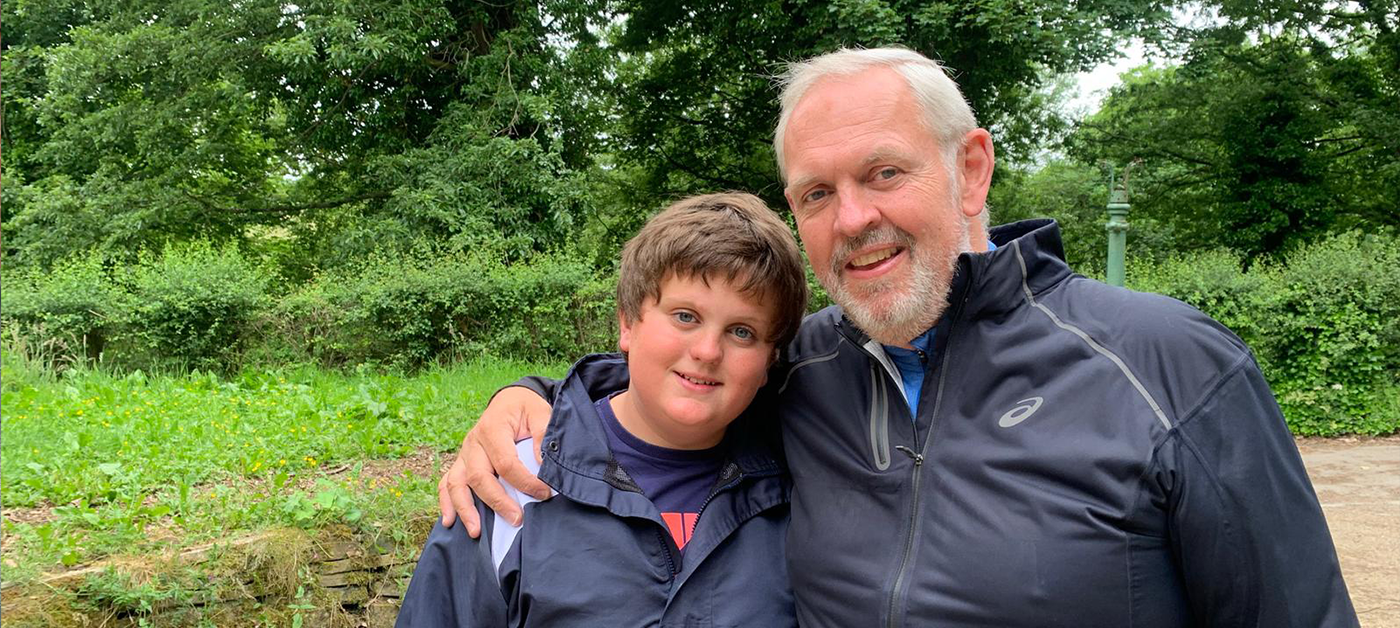 Henry, then 12, and his dad Jules, 56, were out on a walk near their home in West Yorkshire when Jules collapsed and stopped breathing. 
Henry, who had learnt CPR previously, didn't hesitate to spring into action. He called 999 immediately, started CPR and fetched a defibrillator after encouraging a passer-by to take over CPR. They were then joined by two Yorkshire Ambulance Service crews, a clinical supervisor and the Yorkshire Air Ambulance who took over the life-saving efforts. 
Without Henry's quick action, Jules may not have survived. Jules is thankful to his son for what he did, saying: "I'm incredibly proud of Henry. He kept his cool and did what he needed to do which is unbelievable in the circumstances and considering his age. He is an exceptional young man and I can't thank him enough." 
Henry added: "CPR is so important to me because without it, my dad wouldn't be here now. Everyone should learn CPR, as you never know when you might need to use it." 
Yorkshire Ambulance Service will present a bravery award to Henry at a special event on Friday 15 October when the family will also be reunited with some of the ambulance clinicians involved his life-saving attempt. 
Cardiac arrest survivor Dilraj and his saviours Nadeem and Ismail also know the crucial importance of CPR skills.   
On a cold evening in Leicester in September 2019, Nadeem, Ismail (both GPs) and Dilraj were enjoying their regular 7-a-side football game at a local pitch.   
Halfway through the game, Dilraj felt some tightness in his chest and took a break from the game. As he didn't feel well, he told the goalkeeper he was going home and began to walk towards his car.   
Suddenly, Dilraj collapsed beside the pitch. The goalkeeper saw him and started shouting for help. The other players rushed over, and Nadeem and Ismail turned Dilraj onto his back. Ismail checked for a pulse, and when he couldn't find one, Nadeem began chest compressions whilst someone else called 999.   
Both Nadeem and Ismail took turns to continue CPR whilst someone fetched a nearby defibrillator. They had put the defibrillator pads on and given one shock. After another round of compressions, Dilraj regained consciousness.   
10-15 minutes later, the ambulance arrived to take Dilraj to the local hospital. He had had a heart attack which had caused the cardiac arrest.   
Since his arrest, Dilraj has recovered well and has been able to return to playing football with his friends.   
Ismail said:   
"I personally feel privileged and honoured to have been able to help. It doesn't take long to learn CPR, either face-to-face or online, and by learning these skills you could save someone's life.   
"Everyone should learn CPR and how to use a defibrillator, so if someone collapses and stops breathing normally, they know what to do.  
"I'm pleased to know that RCUK are pushing training including across all communities and feel this will greatly help together with it being taught in schools too. I hope that churches, mosques, temples, synagogues and other community centres can be used to promote this basic lifesaving treatment. We may then see many more people being saved."  
Nadeem said:   
"Everyone should learn CPR. Find out how to help in an emergency, you could save a life."  
Dilraj said:   
"Without them I wouldn't be here – learn CPR and how to use an AED today."  
To learn more about Restart a Heart, visit https://bit.ly/RSAHD21
Professor Andrew Lockey, consultant in emergency medicine and co-lead for World Restart a Heart , Resuscitation Council UK said: 
"Learning CPR has never been more important. When Christian Eriksen survived a sudden cardiac arrest at the Euros, he did so because those around him had the essential CPR skills that could save his life, and the confidence to act quickly when they realised what had happened to him. These are simple skills that everyone can do if they take the time to learn them.  

"Learn or refresh your skills today by attending a training event, watching our short animation on how to do CPR in the pandemic, or playing our digital training game, Lifesaver." 
Dr Lynn Thomas, Medical Director at St John Ambulance, said: 
"St John Ambulance is determined to see the number of people with CPR and defibrillator knowledge in the UK grow and for bystanders to overcome any fear of assisting someone who has had a cardiac arrest. We are thrilled to be working with our partners in the Restart A Heart campaign once again and look forward to demonstrating to the public how easy and quick it is to pick up essential first aid skills which could potentially mean the difference between life and death. Ask us about our many free online resources, training courses and face-to-face education via our skilled volunteers. We want to empower as many people as possible to save a life using simple yet vital skills." 
Dr Charmaine Griffiths, Chief Executive of the British Heart Foundation, said: 
"CPR is a lifesaving skill which is quick and simple to learn, and you never know when you'll need to use it or on who. Each year there are over 30,000 out of hospital cardiac arrests, but tragically the survival rate is currently less than one in 10 in the UK. This year millions of us saw how vitally important it is to know CPR when Christian Eriksen collapsed at the Euros - swift action in giving him CPR and using a defibrillator ultimately helped save his life. But not everybody is as fortunate, and that's why we're urging everyone to learn CPR to help improve survival rates and save lives." 
Dafydd Beech, National Community Education Manager at the British Red Cross, said:  
"Christian Eriksen's cardiac arrest at the Euros highlighted the importance of knowing lifesaving first aid skills, like CPR. While it's concerning that one third of adults don't know what to do if someone is unresponsive and not breathing, the good news is that first aid is quick and easy to learn, and anyone can do it. The British Red Cross has lots of free resources for learning first aid, including a first aid app, which you can find out more about by visiting redcross.org.uk/first-aid." 
Anna Parry, Deputy Managing Director of the Association of Ambulance Chief Executives (AACE), said:  
"Ambulance services are very proud to support Restart a Heart Day, a vital initiative that helps save thousands of lives each year by encouraging more people to learn the simple techniques that will enable them to perform CPR if someone suddenly goes into cardiac arrest. Many ambulance services undertake CPR training in schools and community centres across the UK, with the help of hundreds of volunteers, mostly off-duty staff and community first responders." 
Ends 
Notes to editors 
Contact information
Press office: 07506 374 945
Email: pressoffice@resus.org.uk
Andrea Ttofa, Director of Engagement and Influencing, Resuscitation Council UK: andrea.ttofa@resus.org.uk
Chloe Gynne, Digital Marketing and Communications Manager, Resuscitation Council UK: chloe.gynne@resus.org.uk
A clip of the emergency services attending to Jules Collett after his cardiac arrest is available for broadcast journalists to use. This clip is from Helicopter ER - Tuesdays at 10pm on Really (footage courtesy of Air TV / Discovery). Please contact us for the clip.  
Several people with experience of having a cardiac arrest or helping to save someone's Iife through CPR, as well as organisational spokespeople, are available for interview.   
YouGov survey 
You Gov carried out an online survey of 2,150 adults across the UK between 23rd – 24th September 2021. The survey was carried out online. The figures have been weighted and are representative of all UK adults (aged 18+).  
The survey respondents were asked the following question and asked to select all that applied to them:  
On the 12th of June 2021, during the Denmark vs. Finland Euros 2020 match, Christian Eriksen, a Danish footballer, suffered a cardiac arrest on the pitch and received treatment in front of supporters and team-mates at the Parken Stadium in Copenhagen. Before taking this survey, were you aware of the cardiac arrest Christian Eriksen suffered on the 12th of June 2021?  
23% responded Yes, I watched this live (either on screen or in person) 
6% responded Yes, I watched this on catch-up 
45% responded Yes, I heard about this on the news (either broadcast or online) 
15% responded Yes I heard about this through social media (eg YouTube, Twitter, Facebook, Instagram etc) 
12% responded Yes, I heard through friends/family/colleagues 
18% responded No, I was not aware of this  
For the following question, by 'CPR', we mean an emergency process where action is taken to resuscitate someone in cardiac arrest by attempting to restore their circulation through chest compressions with or without breathing through rescue breaths. Which, if any, of the following have you ever received training on (either face-to-face, or using online resources), to help someone experiencing a cardiac arrest? (Please select all that apply. If you have never received any type of training on how to help someone experiencing a cardiac arrest, please select the "Not applicable" option): 
| | |
| --- | --- |
| Chest compressions only (i.e. pressing up and down on the chest)  | 34% |
| Chest compressions and rescue breathing (i.e. mouth-to-mouth resuscitation)  | 50% |
| Using a defibrillator (i.e. an AED - a machine which can deliver an electric shock to restart the heart)  | 24% |
| Other | 2% |
| Don't know/ can't recall | 5% |
| Not applicable - I have never received any type of training on how to help someone experiencing a cardiac arrest  | 38% |
About Restart a Heart day  
Every October, hundreds of thousands of people across the UK – and many more worldwide – learn CPR as part of the Restart a Heart campaign.  
The campaign is led in the UK by Resuscitation Council UK alongside our partners - the British Heart Foundation, British Red Cross, St John Ambulance and Association of Ambulance Chief Executives, NHS England and Improvement, Save a Life for Scotland, Save a Life Cymru, and Northern Ireland Ambulance Service. Every UK Ambulance service joins in to ensure as many people as possible are trained in life-saving skills.  
We lead this national training event because we know that if more people learn CPR, more lives could be saved. The campaign brings communities together, raising awareness of cardiac arrest and increasing the number of people trained in the UK.  
About Resuscitation Council UK  
Resuscitation Council UK is saving lives by developing guidelines, influencing policy, delivering courses and supporting cutting-edge research. Through education, training and research, we're working towards the day when everyone in the country has the skills they need to save a life. https://resus.org.uk   
About St John Ambulance 
St John Ambulance responds to health emergencies, supports communities, and saves lives, relying on the public's generosity to do so. Compassionate care isn't just part of our heritage, it's in our hearts. With our clinical expertise and nationwide presence, our volunteer-led health and first aid charity is uniquely placed to serve the country.     
From our vibrant youth programmes to our world-class training, we empower people of all ages with lifesaving skills and the confidence to use them, every day. St John volunteers treat and transport thousands of patients each year, and in times of crisis we are England's national health reserve.     
As a charity with a long history of serving humanity, we are proud of our past and excited about creating a healthier, safer, more resilient future. St John Ambulance has relieved people from illness, injury, distress and suffering for over 140 years and, with the public's support, will do so for decades to come. 
About The British Heart Foundation 
One in four of us in the UK and one in three globally die from heart and circulatory diseases. That's why the British Heart Foundation funds world-leading research into their causes, prevention, treatment and cure. Advances from our research have saved and improved millions of lives, but heart diseases, stroke, vascular dementia and their risk factors such as diabetes still cause heartbreak on every street. With the public's support, our funding will drive the new discoveries to end that heartbreak. https://bhf.org.uk  
About The British Red Cross 
For over 150 years, the British Red Cross has helped people in crisis, whoever and wherever they are. We are part of a global voluntary network, responding to conflicts, natural disasters and individual emergencies. We enable vulnerable people in the UK and abroad to prepare for and withstand emergencies in their own communities. And when the crisis is over, we help them recover and move on with their lives. https://redcross.org.uk 
About the Association of Ambulance Chief Executives 
The Association of Ambulance Chief Executives (AACE) is a membership organisation providing ambulance services with a central body that supports, coordinates and implements nationally agreed policy. The primary focus of AACE is the ongoing development of the UK ambulance service and the improvement of patient care. Aside from this, the organisation provides the general public and other stakeholders with a central resource of information about UK ambulance services. AACE also engages in carefully chosen consultancy activities designed to help improve ambulance services in general, both at home and abroad. More information is available at www.aace.org.uk.