Resuscitation Council UK is pleased to announce the publication of our 2021 Resuscitation Guidelines.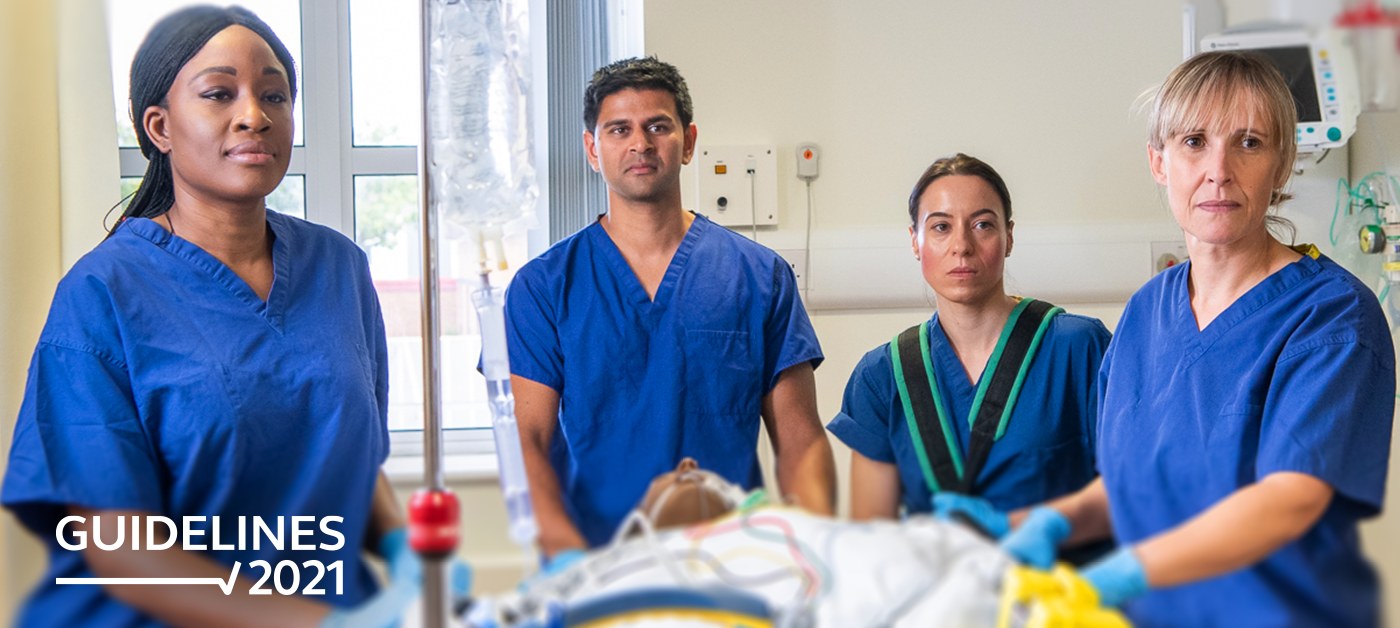 These are evidence-based, expert written, revised Guidelines for best practice and clinical excellence in resuscitation. They cover all age groups, and we ask all healthcare organisations and individuals to plan to implement the changes into practice within the next 12 months. 
The implementation and use of these revised Guidelines are essential to ensuring people receive the right care. Providing guidance for health and social care and public settings, they will give people their best chance of successful outcomes from cardiac arrest or improve patient and family experience in conversations, decisions and planning for end-of-life care. 
Guidelines 2021 have been developed as the result of a continuous process over the last five years led by the International Liaison Committee on Resuscitation (ILCOR). They distil the work of many international collaborators within ILCOR, the European Resuscitation Council and Resuscitation Council UK. The process used to produce the Resuscitation Council UK Guidelines 2021 has been previously accredited, and is pending reaccreditation, by the National Institute for Health and Care Excellence (NICE). 
Read our Executive Summary to learn more about the process used to produce these revised Guidelines, and to learn more about the main changes in each section. You can easily view all of the 2021 Guidelines and revised algorithms in the 2021 Guidelines section of our website.
"Resuscitation Council UK is pleased to be publishing these Guidelines," says Jonathan Wyllie, RCUK President, "and we are grateful to those who gave up their time amidst the challenges posed by the COVID-19 pandemic to ensure that best practice and excellence in resuscitation remain on top of the agenda when it comes to positive outcomes from cardiac arrests and decision-making in emergency care planning." 
"We look forward to these Guidelines being implemented across the United Kingdom, and value the potential impact they have to further improve patient survival and care."  
RCUK courses and course materials are being updated as a result of the 2021 Guidelines publication, and we look forward to welcoming Candidates to the updated courses this summer.
Our 2021 Adult courses, ALS and ILS, will begin running from 5 July 2021, and our 2021 Paediatric and Newborn courses, EPALS, PILS, NLS and ARNI, will begin running from 9 August 2021. All Candidates on our courses from these dates receive a 2021 course manual as part of their course preparation. Anyone not attending a course, but wanting to increase their knowledge with a 2021 manual, can order it from our shop. The new ALS and ILS manuals are now available for pre-order in our shop, and the EPALS, PILS, NLS and ARNI manuals will be available for pre-order in our shop from 24 May 2021.