With 80% of cardiac arrests happening at home, Resuscitation Council UK (RCUK) is on a mission to give everyone across the UK the CPR skills to save a life. They have created the "CPQR code" a heart shaped QR code that directs people to a short video on how to do CPR. Like the pink Ribbon, or the Remembrance Poppy, the CPQR code is an icon that can be used by anyone and everyone who wants to raise awareness for the importance of learning CPR. It's an emblem with a twist: its design holds the information needed to learn and save a life. Scan it. Learn it. Save a life.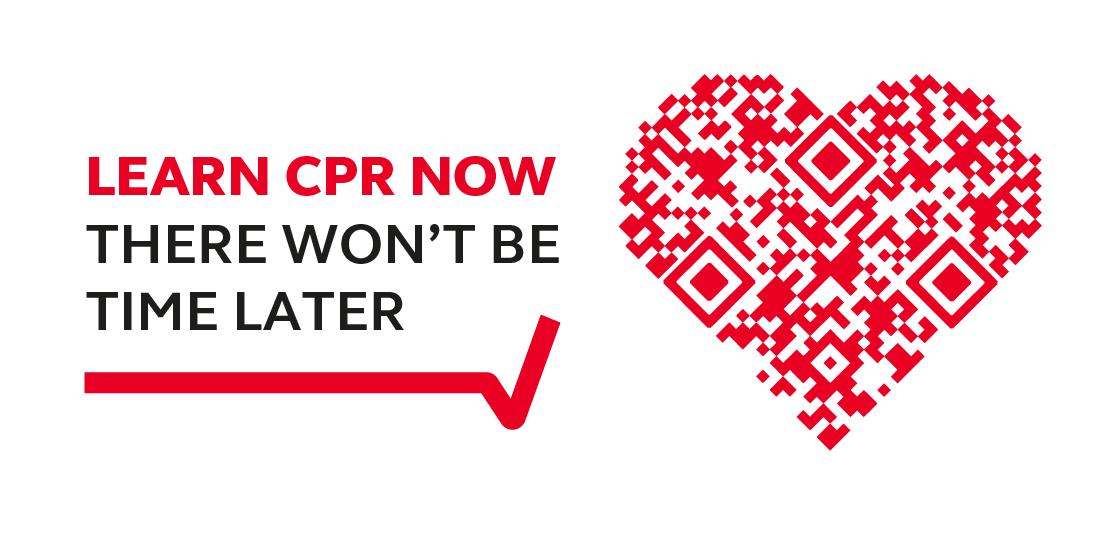 There are more than 30,000 out-of-hospital cardiac arrests in the UK every year, and every minute without CPR and defibrillation reduces the chance of survival by ten per cent.  
The simple aim of the CPQR code is to expand the numbers of people who know the basic principles of CPR and defibrillation - increasing the rate of bystander intervention in out-of-hospital cardiac arrest events, which will increase survival rates.
James Cant, Chief Executive at Resuscitation Council UK said:
"When somebody goes into cardiac arrest they are clinically dead, and bystanders need to act quickly and confidently to give them the best chance of survival. This is why it's crucial that as many people as possible learn the very basics of CPR. 

"It's extremely simple, however many people don't know what to do, or are afraid of doing it wrong and this hesitation could cost someone's life. CPR takes less than two minutes to learn, so we're making it as quick, easy and accessible for people to learn it and one day save a life."

The national experts in resuscitation outline that if reluctant or unable to do rescue breaths, hands-only CPR will still give the person the same chance, and urge members of the public to be confident to intervene.
"Everyone, in every community, has a role to play in the chain of survival, whether it's by calling 999, doing chest compressions, locating a defibrillator, retrieving it or by telling others what to do." James continues. 
Worryingly, incidence of sudden cardiac arrest is higher in poorer parts of the country - this is coupled with lower survival rates in these areas. The link between socioeconomic status and cardiac arrests must be addressed and training and access to defibrillators is key to this, warns RCUK. They are urging organisations to get behind this life saving initiative and to put the code on their products, media owned channels and social channels. The overall aim is to make this a universal code that is accessible to ALL. 
RCUK is committed to improving the survival rates of out-of-hospital cardiac arrests, and aims to do this by ensuring people arrive at hospital with the best chance of survival. 
Through raising awareness, education, training and research, RCUK is working towards the day when everyone in the country has the skills they need to save a life.
Access lifesaving CPR skills now.
To request print interviews, case studies/photos or for more information please call the Resuscitation Council UK Press Office on 0207 391 0730 or email publicaffairs@resus.org.uk.
To request broadcast interviews and/or case studies/photos please contact George Greenstreet on 07900 511 020 or email george@imngroup.co.uk.

ENDS